13 Dorm Room Essentials for the New School Year
The kids deserve a cool new look too, no?
Whether you're going back to school yourself or sending a kid off on their first adventure away from home–creating a comfortable space with everything the room needs is one way to help with all the crazy new life adjustments.
Take it from someone who didn't get everything she needed off the bat and had to adhere to the "learn as you go" process. These essentials will help anyone through their transition into dorm life and last throughout all the remaining years of school–providing playful personality and best of all: functionality!
1. Sneaky Storage
One of the most important lessons you can learn from living in a dorm room is how to best utilize your small space. This bedframe offers optimal storage by providing a bookshelf headboard and base with four integrated drawers. Go ahead, shove everything under your bed. This time you won't get in trouble and your room will look clean and as organized as ever! (Brimnes bedframe with storage and headboard, $429-$499, ikea.com)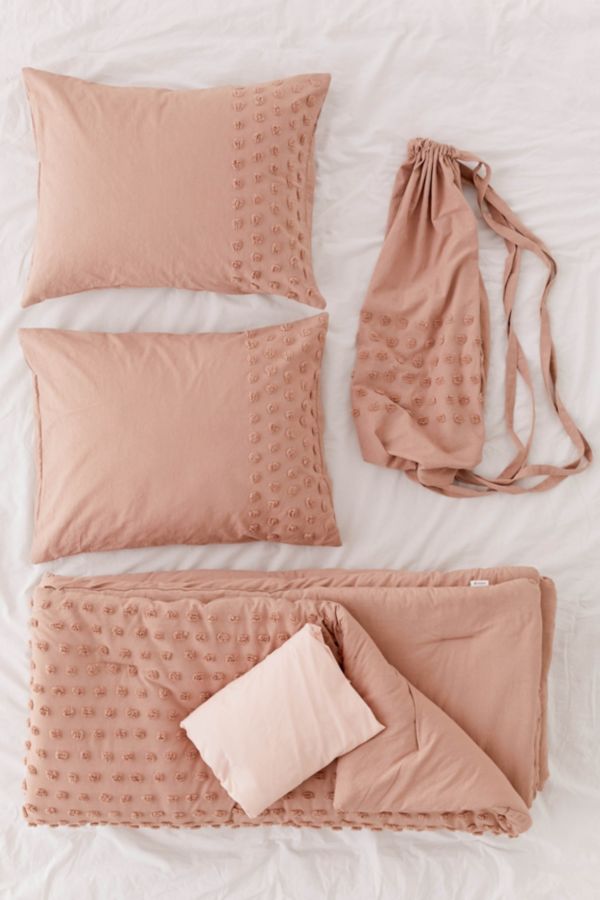 2. Sleeping Beauty
Searching for a stylish yet neutral yet want-to-make-all-the-kids-jealous comforter set seems to be the most time-consuming task when decorating a space. This bed-in-a-bag set (including a comforter, fitted sheet, shams and tote bag) provides that style you're looking for–with custom cotton comfort that will leave your peers peanut butter and jealous of all the naps you'll be sneaking away for. Remember when you were a kid and nap time seemed like a punishment? Yeah. Those days are long gone now. (Tufted Dot Comforter Snooze Set, $224-$324, urbanoutfitters.com)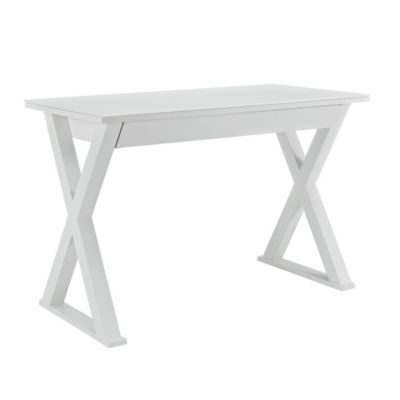 3. Work Hard
A desk that takes up minimal space is all you'll need for the least amount of distractions during study time. Providing a modern touch with a great sense of purpose, this easy-to-assemble must-have is constructed of glass for a hard workable surface. The secret drawer underneath the surface is the perfect rest spot for your laptop and all the backup pens you're going to need throughout the year. (Forest Gate Glass Computer Desk in White, $350, bedbathandbeyond.ca)
4. Like A Boss
Nothing says being in charge quite like a fancy place to sit, and this modern yet classic office chair will help you take control. Swivel and tilt your way through those tough assignments with its adjustable functions, and revel in the comfort of its foam cushioning. (Anton Office Chair, $139, structube.com)
5. Get Lit
Let me just rip the bandage off and break it to you now–there are going to be lots of late nights spent studying (and crying) over your desk. If your roommate is fast asleep and you still haven't started studying for your 9 a.m. exam yet, this desk light will help brighten up those note cards and keep you awake! Focus its dual-head illumination wherever it's most needed and bask in the calming warm glow of its light. Don't worry, all the hard work will definitely be worth it. (Audrey Table Lamp in Rose Gold, $65, structube.com)
6. Smug Rug
Have you ever seen anything better than a decorative rug to help pull a room together? Me neither. Add some personality to your space with a stand out colour-scheme matching rug that will have everyone envious of your interior design skills. (Sage Black and White Diamond Rug, $380, pier1.ca)
7. Playful Cozy
Okay, I lied. Rugs help complete the package–but accent pillows are definitely the neatly tied decorative bow. Add a few with tassels, pompoms or trendy faux fur and play around with your chosen hues to help the place look fun, stylish and very, very comfortable. After all: the more pillows, the better. (Finley Pink Tasselled Pillow, $185, thecrossdesign.com)
8. Hide Away
Ideal for storing laundry out of sight, this bi-fold hamper fits nicely (and discretely) into any space. It's removable and washable cotton liner helps keep things fresh, and its cream-hued polyester material sticks to the theme of your beautifully designed space. Dirty laundry doesn't have to look messy—it can be stylish, too (just, you know, keep it inside the hamper). (Stax Hamper in Cream, $40, indigo.ca)
9. Mirror, Mirror
When making a good impression, what you wear matters. Even on your comfy, casual sweatpants days, you may still want to make sure your runners match, okay? So to keep from constantly guessing whether or not items from your closet go together, full-length mirrors are an absolute life outfit-saver. Plus, it will help on the days you need a quick touchup when the bathroom's mirrors are overcrowded. (Floor Mirror in Rose Gold, $419, westelm.ca)
10. Picture Perfect
Going away for school is a scary experience, no matter how far away from home you voyage. But one thing that will help keep you grounded is reminding yourself of your support system–the family, friends, pets and mentors that helped get you to where you are, and the new amazing people you're going to meet. Let these memories inspire you by hanging up your favourite photos of them along with motivating notes, goals or whatever you like. This will keep you smiling and help make your new space feel like home in no time. (Light-up photo garland, $18, simons.ca)
11. Chill Out
Attention y'all: snacks are very important and they make life better. Keep them fresh and replenished throughout the weeks to energize you whenever you need. You won't have to worry when you "accidentally" sleep in through breakfast or get hungry again once everything's closed, because you'll already have your emergency granola bars and juices just a few steps from your bed. What a time to be alive. (Danby Contemporary Classic Mini Fridge, $217, wayfair.ca)
12. Dinner Winner
Feel like an adult yet? If not, you definitely will now with your very own dinnerware set. This fun, abstract design with a laminated vitrelle glass finish is microwave safe, dishwasher friendly and break resistant. Whether you're making a fancy meal for yourself consisting of ramen or inviting friends over for a snack-filled movie night–this set provides all the tableware you'll need. (Corella Square 16pc Dinnerware set, $87.55, intl.target.com)
13. Heat Wave
While you're at it, you might as well give yourself something to warm up all the great dorm-style meals you'll be making (now you can heat up the ramen instead of eating it dry). This adorable, retro microwave will add style to your space and the very important function of heating up that movie night popcorn. (Retro Countertop Microwave in White, $160, wayfair.ca)
Now go get decorating!