12 Bold and Beautiful Armchairs For People Who Love Colour
Embrace colour and pattern with these statement-making occasional chairs.
I love colour (see: my pink wedding dress, my yellow trench coat, my melon-hued sneakers) but every sofa I have ever purchased is grey. Safe, sensible, timeless…but maaaaaybe a little boring. My dream is to one day be bold enough to buy a piece of furniture that makes some serious visual impact, but at this point in time, I'm still not ready to take the leap into the uncharted world of turquoise chesterfields. But with the glut of wild-and-wonderful occasional chairs on the market right now, I think I could start taking some baby steps: making my way towards a space that's decidedly, delightfully not minimalist, one colourful seat at a time. Here's what's on my fantasy shopping list right now.
1. Pink Powerhouse
Some designers are telling me that "pink is the new neutral," but I suspect they're just telling me what I want to hear: this sweet grapefruit-coloured wire-frame Slipper chair from West Elm ($335) is clearly a statement piece, not a wallflower.
2. Spin Zone
Leaning right into the hot return-to-the-'70s trend is this sunset orange Spin chair from Article ($599) but this is no frumpy Rumpus Room reject: it's a playful modern piece that keeps the room feeling fresh.
3. Cabin Cool
Okay, so this one's not much on the bold colour, but this white-and-gold Pendleton pattern makes this limited edition GusModern Elk chair ($1,745) a statement piece nonetheless.
4. Good Morning, Sunshine
Yellow is my favourite colour and maybe this marigold-coloured Bensen Park chair ($4,000) could be my favourite piece of furniture. There's something bug-like about its legs, which appeals to me too—it's like a midcentury-inspired honeybee that you can sit on. (That's what we're all looking for in an armchair, right?)
5. Velvet Touch
A fun fact about me: when I touch velvet, it makes me want to sneeze. But if I had this pretty-in-eggplant Chloe chair from Crate and Barrel ($1,799) in my living room, it would bring me enough joy just to look at its beautiful form and rich colour, no skin-contact required.
6. Haute Holiday
Are you bold enough to embrace a red-and-green colour palette outside of the holidays? It's not a pattern for the faint of heart, but this occasional chair (a collaboration between Kartell and Double J, price on request) brings the festivities year 'round.
8. Comfy Cozy
It probably doesn't matter what colour this Rolf Benz 384 armchair (price on request) is, because I would just be napping in it constantly.
9. Mean Green
When I was a teenager, my bedroom was this exact shade of green so this EQ3 Tub chair ($799) is conjuring up a little nostalgia. Of course, this grassy colour looks a lot more sophisticated when it's not paired with Blink 182 posters.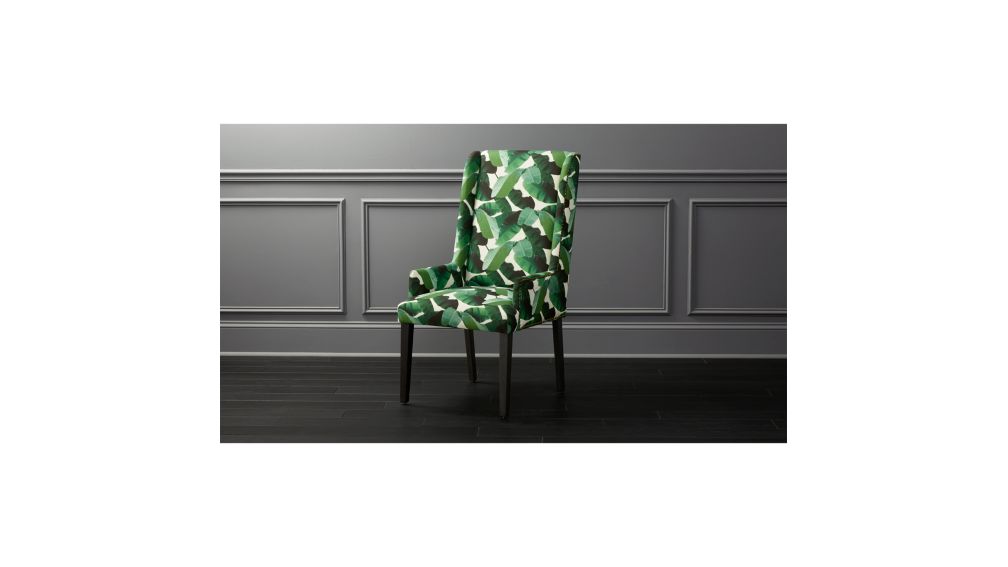 10. A New Leaf
Palm print is still hot, and while it's unlikely this tropical trend will last forever, why not lean into it while you can with this CB2 Reynolds Banana Leaf chair ($599)? Worse comes to worse, you can always recover this classic shape with something a little less 2018 in the future. (Or hold onto it for when the look comes back into vogue in 2048.)
11. Into the Sunset
This Tacchini Sancarlo design (price on request) comes in whatever mix-and-match hues you can dream up, but I like this cushy combo, which I am calling (with no one's permission) "Salute to Autumn," an ode to its fiery colour palette.

12. Flower Power
Bring a little bit of garden glam inside with the Karina-printed Bixby chair at Anthropologie ($1,248). The slipper chair may be condo-sized, but it's delightfully loud—a bloom-covered beauty.